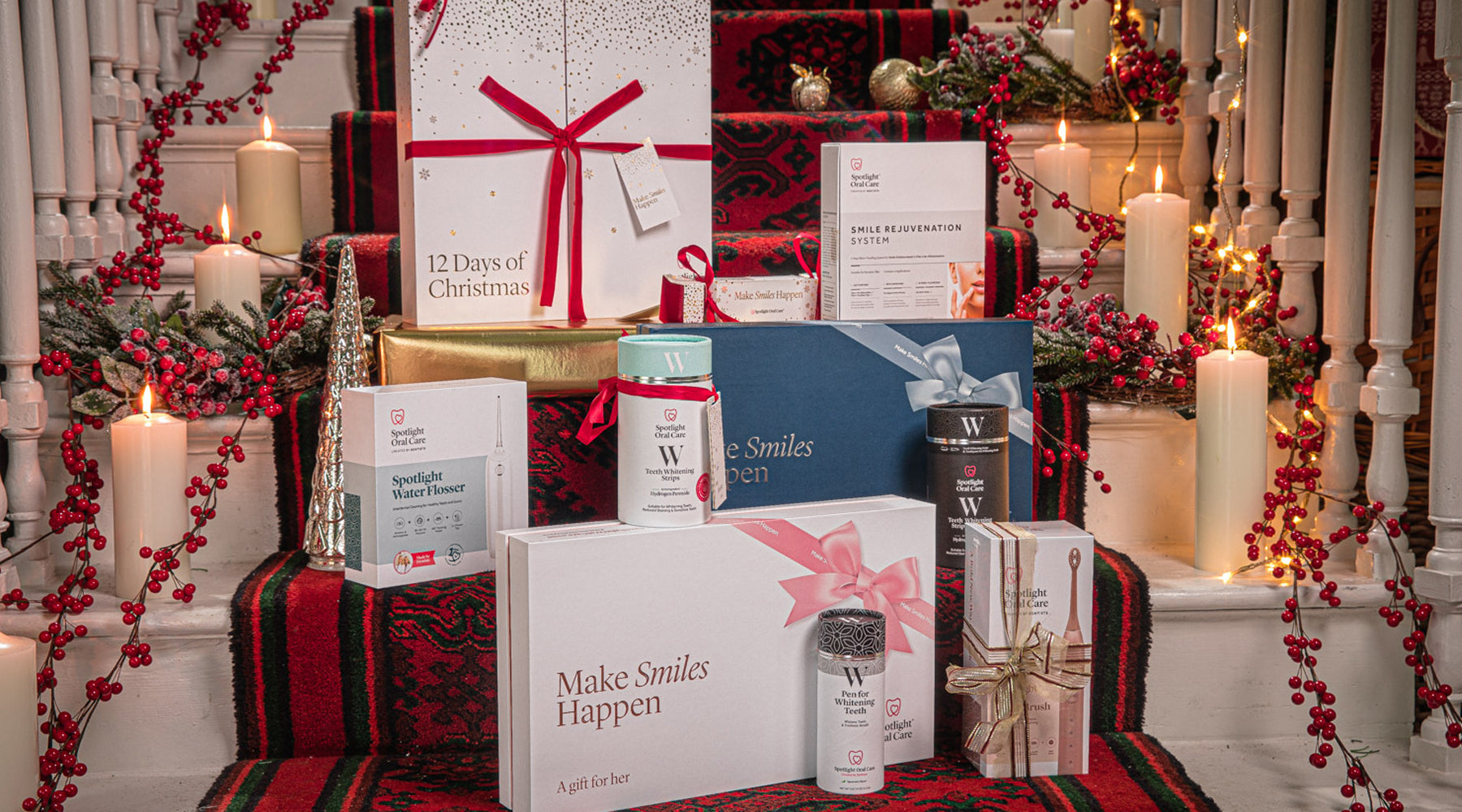 The Ultimate SOC Gift Guide!
This holiday season, we want to help you Make Smiles Happen! We know it can be hard to find the perfect gift for the one you love, so we did the hard work for you! 
We've put together our Spotlight Oral Care Christmas gift guide filled with personalised gifts, bespoke oral health & beauty buys, plus some amazing gift sets filled with self-care essentials. 
We have the perfect presents, guaranteed to make smiles happen this Christmas.
For her
For the Beauty Lover 
Beauty meets oral health in this self-care gift set! The Gift for Her Set is the perfect pamper pack for that someone special. Inside, you'll find our whitening range plus the beauty essentials she needs to brighten your smile and mood this festive season. 
Inside you'll find a 14-day course of our Teeth Whitening Strips, Toothpaste for Whitening Teeth, and Teeth Whitening Pen PLUS a White Jade Facial Roller, Lip Scrub & Exfoliating Lip Scrub Tool and a blush pink Towel Headband.
For the Ultimate Daily Care Gift...
Our Rose Gold Sonic Toothbrush is the perfect present for someone who deserves an oral health and beauty upgrade. This award-winning oral care essential offers personalised deep-cleaning in just 2-minutes, and comes with a travel case and 3 replacement heads - perfect for at home and on the go. 
For Him
For the Techy
Why not try our range of gift set for him and give him the gift of a whiter, brighter smile? The Gift Set for Him is the perfect self-care gift he'd never treat himself to.
It comes with a 14-day course of Teeth Whitening Strips, Toothpaste for Whitening Teeth, Mouthwash for Whitening Teeth, Teeth Whitening Powder, Dental Floss for Whitening, a Bamboo Toothbrush, Mouthwash for Whitening Teeth PLUS Spotlight Sonic Facial Cleanser to gently cleanse and massage the skin!
For the Show-Stopping, Confidence Booster...
Nothing feels better than a white, bright smile, and thanks to our specially formulated and designed Teeth Whitening Strips for Men, you can give the men in your life the gift of a more confident smile this Christmas. Combined with a free Toothpaste for Whitening Teeth, this 14-day course is everything he needs to achieve his greatest smile yet this festive season. 
For Kids 
For the Little Ones 
As dentists and mothers, we understand that brushing with kids can be tricky. Every little helps when it comes to getting them excited and motivated to brush their teeth, and our bamboo toothbrush is the perfect tool to help them on their oral health journey. Our Bamboo Toothbrush has soft bristles for gentle and effective cleaning, making it ideal for children. Plus, it's available in 5 different bold and beautiful colours to choose from, so you can gift them their favourite one! 
For the Best Care They Deserve 
From the fun packaging to the formula inside, everything about our Toothpaste for Children has been created with little ones in mind. This toothpaste contains the key active ingredient Fluoride, an everyday essential for kids healthy teeth and gums. Give them the best gift of all this Christmas - the gift of a happy healthy smile. 
Stocking Fillers
For the Special Memories 
With loved ones gathered around the table, there's really nothing better than sharing a festive cracker, is there? The only thing that could be better is sharing a thoughtful gift instead!
From oral care bundles to festive advent calendars, our range of exquisite gifts are the perfect stocking filler. 
There really is something for everyone this holiday season.
For Yourself...
Come on, what would Christmas be without a little self-gifting? Our TikTok viral Teeth Whitening Pen is the perfect present for anyone who wants to top-up those pearly whites on the go this festive season. Whether you want to whiten your smile after that glass of red, or you're ready to keep that smile shining all evening long, our clinically formulated essential has you covered. 
Haven't quite found what you're looking for? Why not shop our range of bespoke bundles or everyday essentials here.