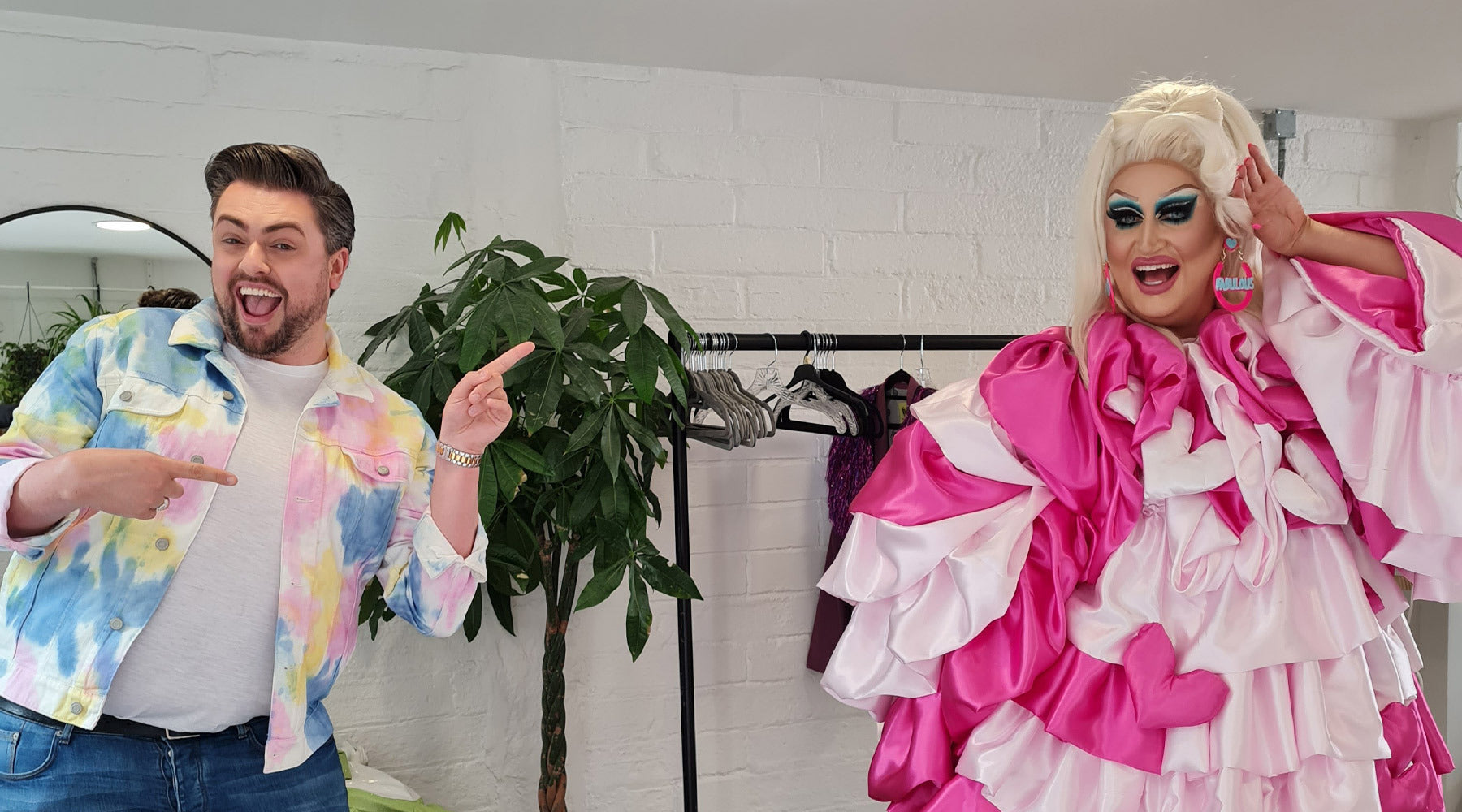 Behind the Scenes: Gleaming with Pride
The lip-syncing, the glitter, the colours, the energy, the goods vibes, the creativity, the FUN! It took one dedicated crew, ten incredible participants and one non-stop, full-on, action-packed, rollercoaster of a day to shoot our Gleaming with Pride campaign in celebration of our Limited Edition Pride Sonic Toothbrush.

From the moment the Spotlight Oral Care team stepped on set, we knew we were in for something special. The Limited Edition Pride Sonic Toothbrush is all about embracing colour, fun and expressing ourselves to our fullest, and that's exactly what this shoot embodied!

The Campaign Heroes
Our ten incredible campaign heroes came, they performed, and they slayed. We couldn't have asked for a more dedicated, energised, inspiring group of people to share this experience with. Here's what they had to say about the day:

As a Spotlight Oral Care team member, Darren played a leading role in creating the finished Pride Sonic Toothbrush. "I was delighted to be a part of the team that pulled it all together. I love design, I love art, I love music, I love all things that maintain the integrity of a culture - a talent, a skill, a moment, an experience. Pride celebrates this. I'm so happy to be a part of something that celebrates and supports diversity and inclusion. The Spotlight Oral Care Pride Brush is vibrant, unapologetic and PROUD!"


Johnnie
"The shoot was one of those wonderful moments where you have a collection of really friendly, fun people all in one space. Would love to do it again."
Kaylie
As the Regional Communications Lead for Indeed's iPride Group, Kaylie is passionate about creating a world in which we can all be ourselves. "The creative team were so friendly, professional, and talented, and the photo shoot was so much fun. I am so proud to have been a part of such an exciting project!"




Maura & Eillen
Maura and Eileen met in a bar in Limerick at a karaoke night, and the rest, as they say, is history. The couple is engaged and plans to wed in 2023. "I'm originally from Tipperary and Eileen is from Limerick, but we didn't let county rivalry come in the way of true love!", says Maura. "We really are so proud to be part of this campaign. The fact that all of the profits from the Pride Sonic Toothbrush are going to such worthy LGBTQ+ charities and organisations is great."



Juan
"Everyone on set helped us to get into the mood, and with our favourite music playing it was hard not to be happy! I loved feeling so comfortable and the make-up was amazing."

Victoria's Secret
As one of the matriarchs of drag in Ireland, Victoria's Secret knows a thing or two about making an impression. "As a performer, it's important for me to have my teeth on point. I've been converted to Spotlight Oral Care for almost two years now and use the toothpaste, mouthwash and Sonic Toothbrush. But now I get to add a little colour to my bathroom with the rainbow flag proudly splashed across my new Pride Sonic! It's a pretty glam way to kick off your morning while getting your teeth gleaming for the day ahead." On the day itself, Victoria's Secret says, "After a year in lockdown it felt exciting to escape my house and dazzle under the bright lights of the photo studio. I didn't realise how much I missed being out, loud and proud ... and the crew made me feel so welcome and comfortable. We had Jessie Ware blasting!"




James Patrice

"It was an absolute pleasure to be a part of the Gleaming With Pride shoot - the colour, the music, the craic! And the ultimate knowledge that a great charity was going to benefit from the success of this product. Gleaming with Pride, to me, means not giving a continental sh**e what ANYONE else thinks. It means loving yourself, loving those who are there for you. Feck the begrudgers - sure they're only ragin'! Most importantly, it means using your own confidence and privilege to stand up for those in your community that may be stifled or held back. Let's lift each other as high as we can, gals."


The Team
From the styling to the make-up, photographs to video, our Spotlight Oral Care crew and the creative team came together to bring the true vision of this campaign to life.

We were delighted to have the opportunity to collaborate with Phoenix Boutique, who supplied their technicolour sweaters for the day. Founder Irene says, "Watching the transformation of each and every person, from when they arrived to when they stood in front of the camera, just had everyone beaming. Make-up artist Sue Brophy produced some stunning looks to compliment the whole spirit of the shoot. The collaborative approach between Ger, the Creative Director, Connor, the Content Creator, Brid, the Photographer and all the people on set brought an amazing energy and sense of fun to the day. I was very proud to see our Phoenix Sweatshirts being worn for such an amazing campaign."


Make-up artist Sue Brophy's artistry wowed everyone onset, and brought a vibrancy and confidence to the campaign that elevated everyone's look - and mood! "We had a Pride playlist in full swing - it was like working on a music video! I loved that the people involved had never been on a photoshoot before. It was great to be able to give them a fun, glam, photoshoot experience. As for the make-up looks, they were colourful but I kept the skin natural. The rainbow lips and beards were definitely my favourite looks to create."

Creative Director Ger Byrne says, "After a lot of planning and hard work, it was so exciting to see the photos and video come together at the shoot in such a vibrant, positive way. We are so excited that now all 3 winning charities have been chosen by our followers, and that the star of the show, our Pride Sonic Toothbrush, is finally on sale!"

Photographer Brid O'Donovan described this experience as joyful, "It was such an honour to photograph this campaign for Spotlight Oral Care. The models' confidence and energy were incredible to work with on the day, and honestly, they made my job so easy. I really admired how they owned their individuality on the shoot while embracing all of our mad requests - total legends!"


Don't forget - our Limited Edition Pride Sonic Toothbrush is now available to purchase, with 100% of the donations being donated directly to Equality for Children, Mermaids and Center for Black Equity! We hope you love this campaign as much as we do, and that you join us in Gleaming with Pride!

Shoot Credits
Creative Director: Ger Byrne
Producer: Francesca Castiglioni
DOP & Video Editor: Connor Dunne
Still Photography: Brid O'Donovan
Makeup: Sue Brophy
Styling: Phoenix Boutique
Location: Grey Area, Dublin